Skydrol
LD-4
$22QT
Trast Aerosupermarket (Aquiline Internationl Goup of Companies) offers hydraulic fluid Skydrol LD-4 from its premises at Sharjah International Airport Free Zone (SAIF Zone) available for immediate sales worldwide.
UAE Phone: +971 (6) 5570710, International phone: +8 835 1000 124 3547 e-mail:
Skydrol LD-4
Sale Skydrol LD-4
Typical Properties
 Property  
 Skydrol® LD-4  
 Appearance
 Clear, purple liquid
 Neutralization number
 0,10 max
 Moisture content (wt.%)
 0,20 max
 Specific gravity, 77 °F/77 °F
 1,003-1,013
 Viscosity in cSt at 210 °F/99 °C at 100 °F/38 °C at -65 °F/-54 °C
 3,66-4,00 10,65-11,65 2000 max.
 Flash point, COC, min.
 320 °F/160 °C
 Refractive Index @ 25 °C
 1,443 to 1,451
Viscosity in cSt
-65°F/-54°C
1185cSt
100°F/38°C
11.42 cSt
210°F/99°C
3.93 cSt
Pour Point
°F
<-80°F
°C
<-62°C
Specific Gravity, 25°C/25°C
1.009
Density at 100°F/37°C, g/cm3
(See Pg. 6)
0.990
Coefficient of Expansion**
5.1x10-4/°F
9.2x10-4/°C
Weight, 75°F/24°C
lb/gal
aug.41
kg/m3
1008
Moisture, %
0.15
Acidity (neutralization
number)
0.10 max
Bulk Modulus
psi
221,000 psi or
15,237 x 105 Pa
Foam (ml foam/sec. collapse)
Sequence 1 75°F/24°C
50 cm3/25 s
Sequence 2 200°F/93°C
10 cm3/5 s
Sequence 3 75°F/24°C
40 cm3/20 s
Specific Heat
100°F/38°C
0.437 kcal/(kg°C)
200°F/93°C
0.472 kcal/(kg°C)
300°F/149°C
0.507 kcal/(kg°C)
Thermal Conductivity       Btu/(h.ft.°F) kcal/(h.m.°C)   Btu/(hft°F) kcal/(h.m.°C)
100°F/38°C
0.0764    1.89 x10-3
200°F/93°C
0.0722    1.79 x10-3
300°F/149°C
0.0670    1.66 x10-3
Surface Tension, 77°F/25°C
28.2 dyn/cm
Conductivity,
microsiemens/cm
0.43
Heat of Combustion
13,200 Btu/lb
7.33 kcal/g
 Flash Point
 340 °F/171 °C
 Fire Point
 360 °F/182 °C
 AIT
 880 °F/471 °C
 Hot Manifold Drip Manifold Temp. Results
 1300 °F/704 °C Equivalent to Std.
 Hot Manifold Spray Fluid Temp. Manifold Temp. Fluid Pressure Results
 167 °F/75 °C 1100 °F/593 °C 1000 psi/68,9 bar No flashing or burning
 High Pressure Spray
 Equivalent to Std.
 Low Pressure Spray
 Better than Std.
 Wick Flammability
 Equivalent to Std.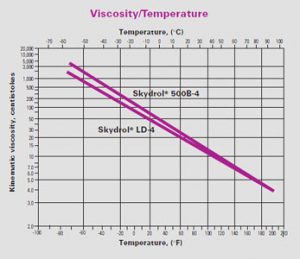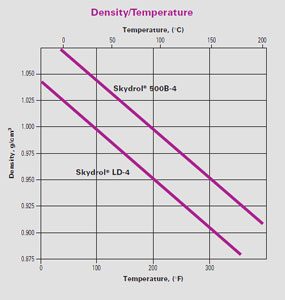 ---
 Download MSDS SkyDrol LD-4

 Product Highlight Skydrol / SkyKleen / MCS 352B

 Technical Bulletin
* Materials Compatibility
* Fluid In-Service Quality Limits
* Shelf Life, Storage and Handling
* Safety and Emergency Procedures
* Fluid Performance
* Permeation Testing
* Factors Affecting Glove Selection Permeation
* Heaiht & Safety
Skydrol® fire resistant hydraulic fluids may cause intense pain on exposure to the eye and its associated membranes. Despite the pain they may cause, toxicological testing and our experience both indicate that Skydrol fluids do not damage the eye.